Delicious muffins that are both nutritious, healthy and tasty at the same time, prepared with banana, oatmeal, brown sugar – and drops of Leona dark chocolate.
Total time: 30 min
Preparation time: 15 min
Cooking time: 15 min
Portions: 12
Level of difficulty: moderately difficult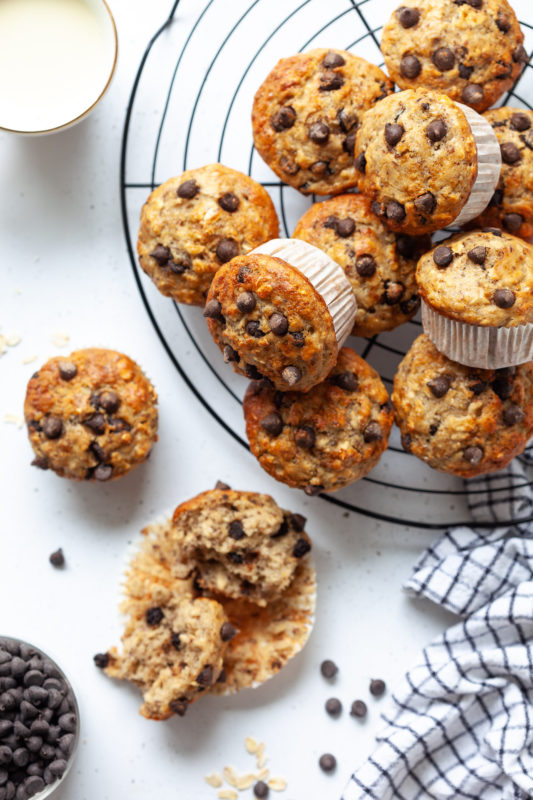 Wet ingredients:
2 tablespoons ground flaxseed
2 ripe bananas (approx. 250 grams)
20 ml of maple syrup
60 ml of peanut butter
teaspoon of vanilla extract
80 ml soy milk (can also be another herbal drink)
Dry ingredients:
175 grams of flour
80 grams of oatmeal
1 teaspoon baking powder
0.5 teaspoons baking soda
pinch of salt
70 grams of brown sugar
100 grams of chocolate LEONE baking chips
1. Preheat the oven to 180 ° C (fan to 170 ° C). Grease the muffin tin and sprinkle with flour well or cover it with paper models.
2. Soak 2 tablespoons of ground flaxseed in 4 tablespoons of water for 10 minutes to make the seeds swell.
3. Peel 2 ripe bananas and mash well. Add soaked flax seeds, 20 ml of maple syrup, 60 ml of peanut butter, a teaspoon of vanilla extract and 80 ml of vegetable milk.
4. Separately mix the dry ingredients: 175 grams of flour, 80 grams of oatmeal (can be partially ground), 1 teaspoon of baking powder, 0.5 teaspoon of baking soda, a pinch of salt and 70 grams of brown sugar.
5. Add the dry ingredients to the wet ingredients and stir, then stir in the chocolate drops.
6. Fill the dough into the muffin tin to the top, then push the pan into the preheated oven and bake for about 15-18 minutes. We check that the muffins are baked with a toothpick, which we push into the muffin – when we take it out, the dough should not stick to it.
7. Take the baked muffins out of the oven, refrigerate for 5 minutes, then transfer to a kitchen rack and let cool.
IN THE RECIPE WE USED