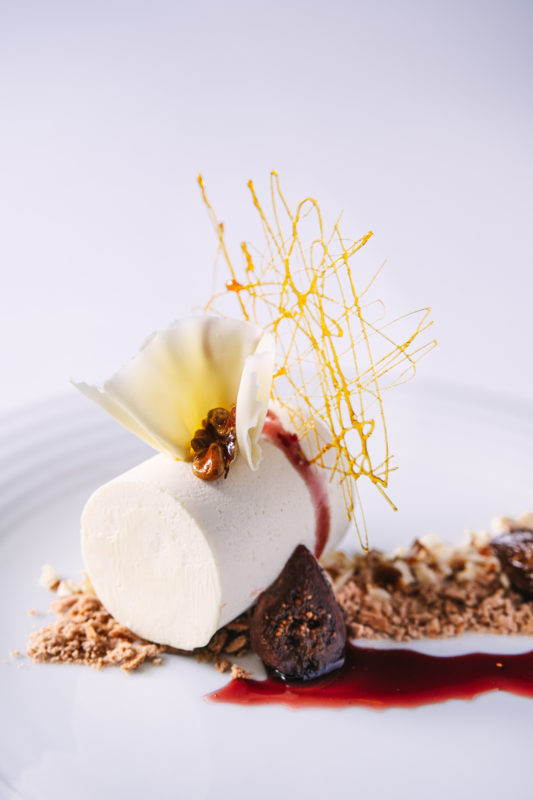 INGREDIENTS FOR WHITE CHOCOLATE MOUSSE:
250 ml of sweet cream
125 g of Leone white chocolate
1 egg
100 g of Greek yogurt
20 ml white rum
2 sheets of gelatin
PREPARATION PROCEDURE
Whisk the egg, Greek yoghurt and rum over a steamer to heat to 70 ° C to obtain a slightly frothy mixture. Add the gelatin soaked in cold water and mix well to dissolve, add the melted white chocolate and finally carefully and lightly stir in the whipped cream. Pour the prepared cream into any model, put it in the fridge to cool well and harden. However, it can be placed in a small container, cooled to harden and shaped into a spoon or ball before serving.
INGREDIENTS FOR FIGS IN RED WINE:
100 g of dried figs
150 ml of red wine (cabernet sauvignon or merlot)
60 g SUGAR
VANILLA POD
POSTOPEK PRIPRAVE:
Bring the sugar and wine to a boil, add the washed figs and vanilla pods, and cook slowly over low heat so that the figs are well watered and the liquid thickens slightly. Then cover and allow to cool all together.
CARAMELIZED WALNUTS:
100 g WALNUT NUCLEUS
100 g SUGAR
50 g SPECULAS BISCUITS
Caramelize the sugar and add the chopped walnuts. Shake everything together on a silicone base or baking paper and let cool. Caramelized walnuts and speculas biscuits are slightly crushed with a rolling pin. Sprinkle crushed caramelized walnuts and speculas biscuits on the part of the plate where we will place the white chocolate foam, place the white chocolate foam on the base, and add the figs in the red wine sauce. Garnish the dessert as you like and serve.