Would you believe that this divine cake is prepared completely without flour? In it we find a noble dark
dark chocolate, eggs, sugar, coffee and other delicious ingredients – easy, delicious, decadent, and straight
divine! Serve the cake with creamy cream or a scoop of Leone ice cream.
Total time: 45 min
Preparation time: 15 min
Cooking time: 30 min
Portions: 10-12
Level of difficulty: moderately difficult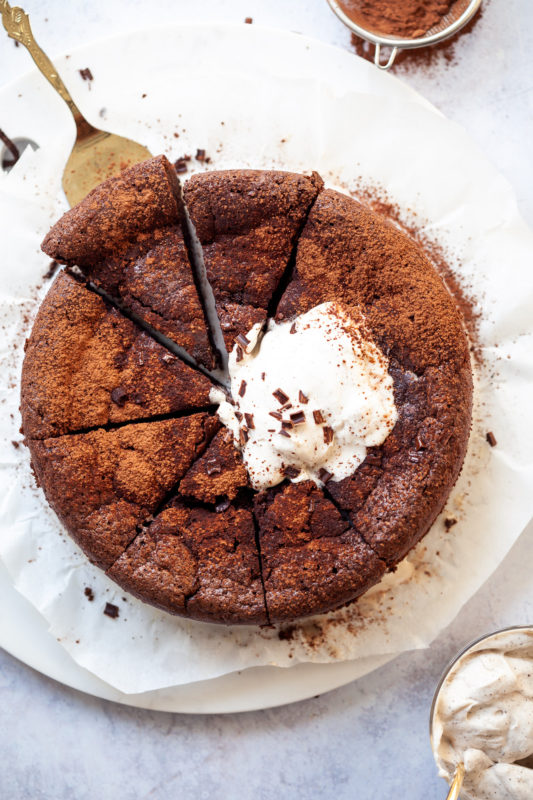 200 grams of dark chocolate
125 ml of olive oil (can also be plain oil or melted
butter)
5 eggs
110 grams of sugar
2 teaspoons ground coffee
20 grams of cocoa powder
2 teaspoons vanilla extract
half a teaspoon of salt
60 grams of milk chocolate
COFFEE CREAM:
200 ml cream (sweet, whipping or coconut)
2 teaspoons powdered sugar
1 teaspoon ground coffee
1 teaspoon vanilla extract
OTHER
Cocoa powder for sprinkling
chocolate shavings
1. Preheat the oven to 160 ° C. Lightly grease a round baking pan with a diameter of 20 cm with a removable rim, and the bottom
line with baking paper.
2. Melt the butter over low heat, then add the dark chocolate and let the chocolate melt.
Let it cool down.
3. Kill the eggs and separate the whites from the yolks. Beat the yolks in a large bowl, then add the melted
butter and chocolate, sugar, ground coffee, cocoa and vanilla and beat well.
4. In a separate bowl, whisk the egg whites with half a teaspoon of salt to begin to work the tops. When the whites are whipped, them
slowly add to the chocolate mixture – first lightly stir in half of the egg whites, then add the rest
half. Finally, lightly stir in the milk chocolate.
5. Pour the mixture into the prepared baking pan and flatten it. The pan is then pushed into a preheated oven and baked
about 25-30 minutes. The cake is baked when the core no longer trembles if the baking sheet is shaken lightly. Take the pan out
cool the oven and cake for at least 10 minutes before removing the removable rim.
6. Whip the cream well, then stir in the powdered sugar, ground coffee and vanilla.
7. Before serving, sprinkle the cake with cocoa powder, add cream and sprinkle with chocolate
shavings.
TIP: Serve the cake chilled, but you can also serve it warm – in this case, the cream will melt after it.
Instead of cream, you can also add a scoop of ice cream.