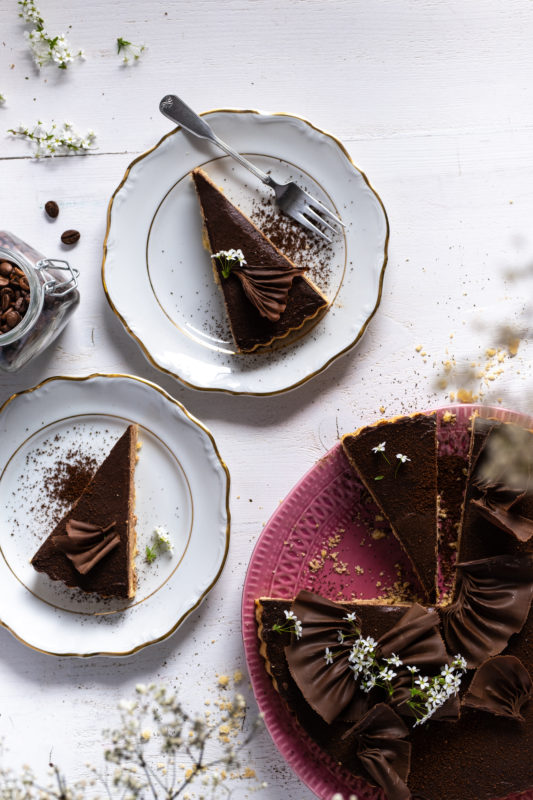 INGREDIENTS FOR THE DOUGH:
150 g of flour
50 g of finely ground almonds
100 g butter
50 g of powdered sugar
1 egg
1/2 tablespoons of baking powder
Pinch of salt
Lemon peel
Vanilla aroma
PREPARATION PROCEDURE:
Sift flour with cocoa. Grease a baking tray measuring approximately 20 × 30 cm with butter or line with baking paper. Whisk the butter with the sugar, stir in the melted chocolate. Add eggs, rum, vanilla sugar and beat to obtain a light frothy mass. Lightly mix flour with cocoa and whole pistachios. Place the mass in a baking dish, flatten it evenly and bake for 20 minutes at 175 ° C. Cool the baked brownie well, cut it into any square pieces. We can also serve blueberry ice cream, which enriches the dessert with its taste and freshness.
CREAM INGREDIENTS:
250 g mascarpone
200 g of Leone milk chocolate
100 ml of water
1 teaspoon ground coffee
PREPARATION PROCEDURE:
Bring the water to a boil, stir in the coffee and let stand for a good two minutes. Pour the hot coffee through the strainer through the strainer and stir to dissolve it. Stir the mascarpone to make it smooth and mix the chocolate with the coffee. Whisk everything together a little to make the cream slightly foamy, then fill it into the baked dough base and flatten it evenly. Place the pie in the fridge to allow the cream to cool well and harden.
FLOWING INGREDIENTS:
100 g of dark 60% Leone chocolate
70 ml of sweet cream
POSTOPEK PRIPRAVE:
Bring the sweet cream to a boil, add the chocolate and stir to dissolve. If the mass cools down too much and the chocolate does not melt completely, heat it a little more. Pour the prepared topping over the cooled pie and flatten evenly. Place the pie in the fridge for a while to cool completely, garnish with chocolate and sprinkle lightly with ground coffee.