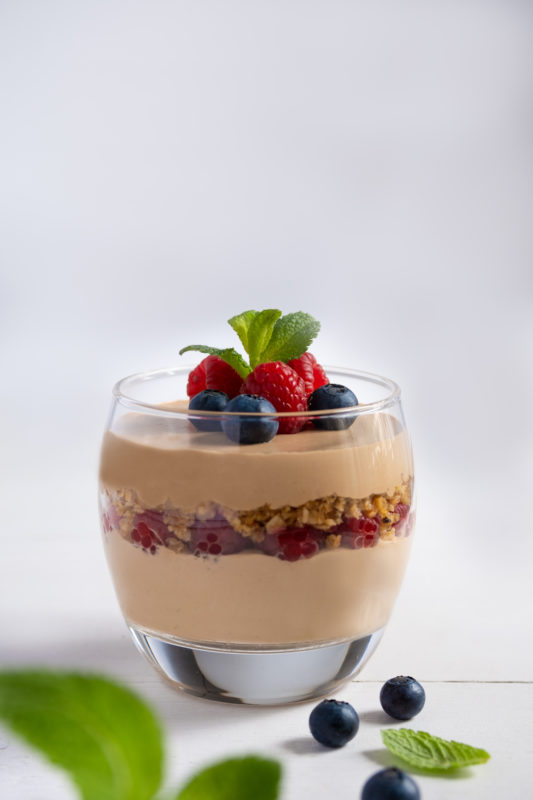 INGREDIENTS FOR CRUMBS:
50g butter
50g brown sugar
50g oatmeal
50g ground almonds
PREPARATION PROCEDURE:
Leave the butter at room temperature to soften. Grind the oatmeal a little. Mix all the ingredients well to get a crumbly mixture, place it on a baking tray lined with baking paper and bake for 15 – 20 minutes at 160 ° C. Cool the baked crumbs on a baking tray, you can crush them a little before use.
MILK CHOCOLATE MOUSSE:
200 g of Leone milk chocolate
300 g of whipped cream
2 egg yolks
50 g brown sugar
50 ml of water
Pinch of salt
1 sheet of gelatin
200 g of fresh raspberries
PREPARATION PROCEDURE:
Soak the gelatin in cold water, melt the chocolate. Bring the water with the sugar to a boil, add the yolks while boiling while stirring and beat until you get a slightly frothy mixture. Add melted gelatin, salt, melted chocolate and mix well. Stir in the whipped cream lightly.
COMPOSITION OF DESSERT:
First put a full tablespoon of the crumbs in a glass, fill it with a layer of chocolate foam and put it in the fridge to harden a bit, then load a layer of raspberries and refill the chocolate foam. Put back in the fridge to make the foam harden a bit and garnish with raspberries.